INTRODUCTION
The healthcare profession has become one of the most dangerous environments with regard to workplace violence. According to 2014 data provided by the Bureau of Labor Statistics, workers in the healthcare sector experience workplace violence related injuries at an estimated incidence rate of 8.2 per 10,000 full time workers. That is more than four times higher than the rate of 1.7 per 10,000 workers in the private sector overall. For more than 30 years, this trend has been evaluated by researchers in an effort to determine why. More recently, however, much of the research has shifted focus from identifying the root causes of healthcare workplace violence toward identifying and evaluating meaningful strategies for prevention and mitigation. Possible strategies include verbal and physical de-escalation training, clinical huddles, patient flagging, disruptive visitor processes, Zero Tolerance policies and root cause analyses among many others. This article will focus on threat assessment (TA) as a tool for prevention and mitigation.
This article will explore:
The present state of workplace violence in healthcare
The regulatory environment that governs the ability of healthcare facilities to protect staff members from violence and respond when it occurs
The background of TA and its applicability to healthcare
The process for using TA as a violence management strategy
PRESENT STATE
According to the Bureau of Labor Statistics, 43 out of the 146 fatalities in the healthcare and social service settings that occurred in 2017 were due to assaults and violent acts. Also in 2017, 6,810 injuries occurred from workplace violence incidents in hospitals, 8,960 incidents in nursing or residential care facilities and 2,630 incidents in ambulatory care centers and offices.[1] Up to 80% of nurses do not feel safe in their workplace and between 35% and 80% of hospital staff have been physically assaulted at least once during their careers.[2]
Workplace violence clearly poses a large problem in the healthcare sector, though it may be even larger than it appears. This is due in part to the varied definitions of workplace violence that are used among agencies and researchers who analyze that data. For this article, we will use the National Institute for Occupational Safety and Health (NIOSH)'s definition: "violent acts (including physical assaults and threats of assaults) directed toward persons at work or on duty."[3]
There are generally four recognized types of workplace violence, based on the perpetrator of the crime (see Table 1 below). All of these are present in healthcare with Type II – perpetrator is customer – being most prevalent in healthcare over all other sectors.
Table 1 – Types of Workplace Violence[1]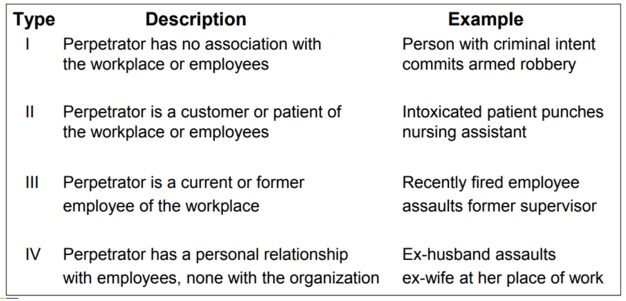 Several factors elevate the risk of workplace violence for healthcare workers including:
Increasing use of hospitals by the criminal justice system for criminal holds and the care of acutely disturbed, violent individuals
Increasing number of acute and chronic mentally ill patients for whom adequate inpatient and follow-up care is not available
Availability of medication, particularly opioids amidst a national opioid crisis
Increasing presence of substance abusers
Distraught family members
Isolated work with patients during examinations or treatment as well as in the home health setting
Lack of staff training in recognizing and managing escalating, hostile and assaultive behavior[5]
A workforce that is predominantly female[6]
Additionally, healthcare is essentially a high stress atmosphere. "Pain, devastating prognoses, unfamiliar surroundings, mind- and mood-altering medications, drugs and disease progression can all cause agitation and violent behaviors."[7]
Mitigation and prevention strategies generally focus on these risk factors and typically include strong polices, enhanced environmental controls, management support and increased training. One of the pervasive recommendations is adopting a Zero Tolerance policy, meaning that abusive behavior in any manner is not permitted and that severe consequences will follow all instances including possible dismissal of patients from care. The Zero Tolerance strategy is included in guidance materials from The Joint Commission, the Occupational Safety and Health Administration (OSHA), the National Safety Council and the American Nurses Association.[8],[9],[10]
---
[1] Bureau of Labor Statistics, (2014) [online].
[2]Bureau of Labor Statistics Injuries, Illnesses, and Fatalities data, 2017 [online].
[3] Ann Blouin, Emerging Healthcare Concern: Preventing Workplace Violence, (The Joint Commission, 2016) [online].
[4] CDC/NIOSH, Violence. Occupational Hazards in Hospitals, (2002) [online].
[5] Blouin, Emerging Healthcare Concern
[6] Gender and health workforce statistics, (World Health Organization, 2008), 1.
[7] Sheridan Ryan, Healthcare Threat Management: What's Different and Why, (The Beat, 2017), 2.
[8] https://www.jcrinc.com/assets/1/7/August_2015.pdf
[9] https://www.safetyandhealthmagazine.com/articles/zero-tolerance-2
[10] https://www.nursingworld.org/news/news-releases/2018/ana-responds-to-the-joint-commission-sentinel-event-alert-on-physical-and-verbal-violence-against-health-care-workers/