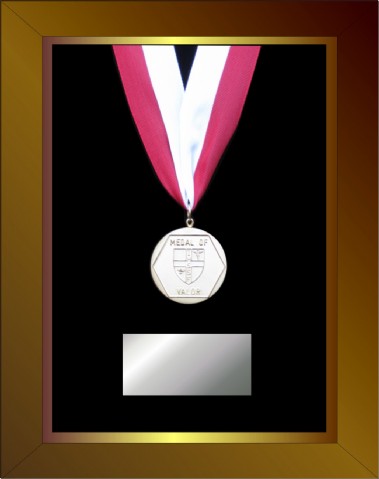 The Medal of Valor is presented to an individual or individuals:
Medal of Valor
For a selfless and/or courageous act taken at risk of their own lives with full awareness of the danger involved.
In submitting nominations for either award, the following items and details should be forwarded with the nomination: The Awards Committee will automatically consider any nominees not awarded the Medal of Valor for the Medal of Distinction. The following should be included in the nomination package for both:
Copies of any correspondence, including, but not limited to: internal incident reports, newspaper articles, administrative reports, statements or unsolicited letters from unbiased witnesses, and copies or external agency reports, i.e., law enforcement, fire and/or emergency medical service agencies.
A brief biography or vitae of each nominee, including an outline of his or her accomplishments.
The Awards Committee will evaluate and consider, among other factors, whether the risk taken by the nominee(s) protected or compromised his/her/their own safety or the safety of others. Documentation which clearly shows sound judgement, courage, ability, the use or learned skills and appropriateness or responses will also be evaluated. When two or more nominations for separate acts of heroism meet the above criteria, the Awards Committee may elect to award more than one Medal of Valor.
The Medal of Valor award consists of a gold medal bearing the IAHSSF seal and suitably inscribed mounted on a red, white and red ribbon in a presentation case, and a certificate. A bar consisting of equal segments of red, white and red enamel separated by narrow bands of blue enamel with a blue enamel "V" centered and suitable for uniform wear will be issued to all recipients of the Medal of Valor and past recipients of the Valor Award.
Vancouver Island Health
Medal of Valor Awards
Year
Recipient's Name
Facility
2018
Charles Kraeling
Vancouver Island Health
2018
Brandon Janeski and David Walker
McLaren Greater Lansing Hospital
2015
Corina Maher
Massachusetts General Hospital
2015
Abdur-Raheem Muhammad
University of North Carolina Hospitals
2014
Chris Brewer
Fredericton Area Security Services
2013
Gilbert Sanchez
Scott & White Healthcare System
2012
Brad Baker, Rich Blevins, Paul DeLeon,
Sgt. Shane Presgraves, Robert Loll
Northeast Georgia Health System McLaren Health Care
2011
Jackie D. Houston, Michael S. Saunders,
Thad B. Boyd and Timothy W. Henley
Forsyth Medical Center, Winston-Salem, NC
2011
Andrew I. Hull, Abhishek D. Herekar
Timothy H. Merullo and Jamie R. Pisano
Danbury Hospital, Danbury, CT
2011
Derrick N. Glennie and Davis N. Drepaul
Rouge Valley Health System, Toronto, ON
2009
Michael Hearn
Rouge Valley Health System, Toronto, ON
2008
Gary A. Purcell
Scottsdale Healthcare, Scottsdale, AZ
Steve Toland
(Award of Distinction)
Sacred Heart Medical Center, Spokane, WA
2007
John Snitgen
Joseph Wilson
Henry Ford Health Systems, Detroit, MI
Steve Martin
Panch Bumbray
Northwestern Hospital, Baltimore, MD
Timothy Hough
Sinai Hospital, Baltimore, MD
Brandon Hudson
Northwestern Hospital, Baltimore, MD
Nathaniel Carter
Albert Einstein Medical Center, Philadelphia PA
Eric Ellwanger
Presbyterian St. Luke's Medical Center, Denver, CO