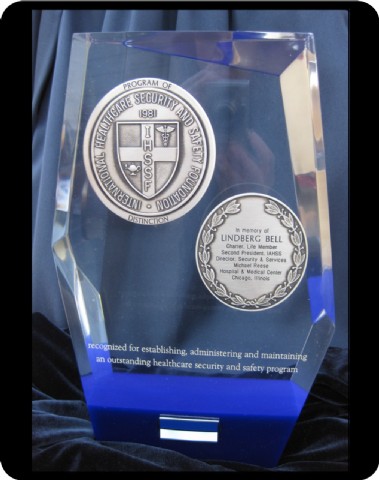 This award is named in memory of Lindberg Bell, charter member and second President of the IAHSS. It is presented to a facility that has demonstrated an outstanding healthcare security and/or safety program. The Awards Committee will examine nominations to evaluate measurable changes in the total program within a 30 month time frame. The documents submitted should include the levels of service provided, demonstrations of how the program was enhanced, results of changes to the program and any documentable cost savings realized as a result of the changes. Items that will be considered include, but are not limited to, changes or establishment of programs in the area of crime prevention, risk management, services, training, their innovativeness, and the application of contemporary technology. The Awards Committee will look for, among other variables, a program that is balanced, comprehensive, progressive, results oriented, and cost-effective. In addition, consideration will be given to those programs which extend to, and include, community involvement by the department and/or involvement of community members. The degree of difficulty with which changes were effected (i. e., making changes in an older established program with an older physical plant verses a new facility and a new program) will be considered.
Supporting community related documentation should include all community related materials that the department has developed, i. e., policies and procedures, pamphlets, etc., statements from hospital administration, neighborhood groups, local law enforcement and/or public safety related agencies. The institutional setting, i. e., inner-city vs. suburban, and the scope of problems unique to each setting, as well as local demographic information should be included. All submitted information should be suitable for presentation.
The award consists of a large plaque bearing the IAHSSF seal and suitably engraved. A bar consisting of horizontal stripes of blue and white enamel and suitable for uniform wear will be available for purchase for or by all security and/or safety officers who were employee by the facility receiving the award during the year for which the award is presented. Enameled bars for uniformed wear by officers who were employed by a facility previously receiving the award during the year for which the award was presented may be purchased by the facility or individual officers from IAHSS Headquarters.
Lindberg Bell Nomination Application
Lindberg Bell Awards
Year
Recipient's Name
Facility
2018
Bonnie Michelman
Massachusetts General Hospital
2017
Ken Close
Trillum Health Partners of Canada
2016
Lisa Terry, CHPA
UNC , Chapel Hill NC
2015
William Adcox
University of Texas M D Anderson Cancer Center
2014
Marilyn Hollier, CHPA
University of Michigan Hospitals and Health Centers
2012
Constance Packard/Robert Whitfield
Boston University Medical Center
2011
David P. Corbin, CHPA
Faulkner Hospital, Boston MA
2010
Randy Stephan, Sr.
Cleveland Clinic, Cleveland, OH
2010
William R. Losefsky, CHPA
New Hampshire Veterans Home, Tilton, NH
2009
Bryan Warren, CHPA
Carolinas Healthcare System, Charlotte, NC
2008
Marilyn Hollier, CHPA, CPP
University of Michigan Hospitals and Health Centers – Security and Entrance Services, Ann Arbor, MI
2007
Bonnie Michelman, CHPA, CPP
Massachusetts General Hospital, Boston MA