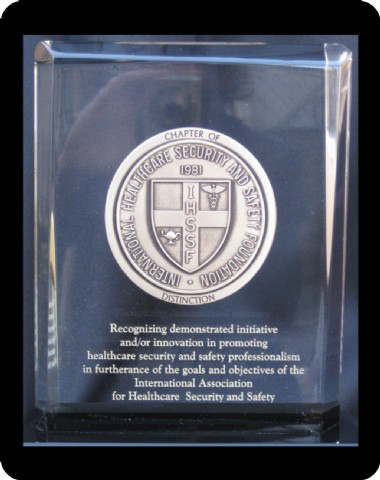 The Distinguished IAHSS Chapter Award is presented to the IAHSS Chapter showing the greatest initiative and / or innovation in promoting the healthcare security and safety profession, as well as the IAHSS. In making their selection, the Awards Committee will look for documentation of, but not limited to, the following items:
Chapter sponsorship of an Annual General Meeting, Regional Seminar or other formal IAHSS program, including co-sponsorship of an educational program with another chartered healthcare or security organization.
Significant contributions made by the chapter to the healthcare security and/or safety profession. Such contributions may include but are not limited to the following:

Identification and resolution of a unique problem to healthcare in the chapter area, or to the healthcare field in general.
Research that significantly enhances, rejects, tracks or recommends revision of specific healthcare security or safety practices and programs.
The overall quality, innovativeness, attendance, and consistency of chapter sponsored educational programs.
Chapter involvement or representation as a recognized authority on local, state or regional healthcare security and/or safety issues.
Consistency, quality, and timeliness of Chapter meeting announcements, agendas, minutes, newsletters, and other documents provided to the membership, copies of which are forwarded to the IAHSS central office.
Chapter Nomination Application
Outstanding Chapter Awards
Year
Recipient Chapter
2018
Los Angeles and Orange County Chapter
2017
Ontario, Canada
2016
Boston Chapter
2012
Ontario, Canada
2010
Connecticut Chapter
2009
British Columbia
2008
Washington State
2007
Maryland Chapter