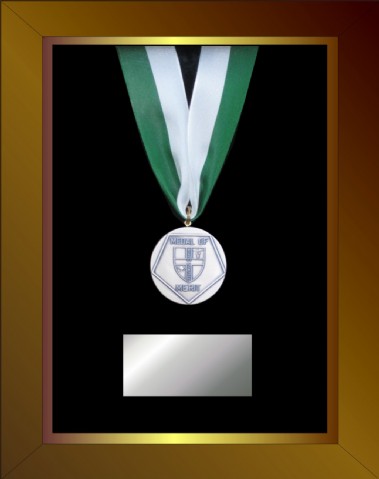 The Medal of Merit is presented to an individual who distinguishes himself/herself in the performance of duty by an act of personal fortitude above and beyond the call of duty not taken at the risk of his/her own life.
Medal of Merit Nomination Application
An individual must be nominated in writing by a Board Member, Past President, Regional Chairperson, or local Chapter Chairperson. Any and all supporting documentation must be included with the recommendation letter.
The award consists of a medal bearing the IAHSSF seal and suitably engraved. The award may be presented at the Awards Banquet in conjunction with the Annual General Meeting or any official IAHSS function.
Awards of Merit
Year
Recipient's Name
Facility
2018
Lena Allen
St Joseph Hospital
2017
Paul Berube
Central Maine Medical Center
2017
Derrick Dix,
Odetta Mauny,
Nicholas Williams
Carolina Healthcare Systems
2017
Michael Morris
Virginia Healthcare Facility
2017
Joshua Parks and Troy Burrows
2017
Brodie Riner
University of Texas, Houston
2017
Patrick Spencer
Nationwide Children's Hospital Columbus, Ohio
2016
Pamela Shauf
Lions Gate Hospital in N. Vancouver, BC
2016
Alex French,
Dharmendra Singh,
Brandon Anderson,
Gaurav Gill,
Maurico Godoy
Surrey Memorial Hospital, BC
2016
Allen Young
Memorial Herman Health Care
2014
Venus Powell-Uzzell
Einstein Medical Center Philadelphia
2013
Hector Collazo
Glenton Smith
Alyssa Roderick
Cambridge Health Alliance
2013
Kristopher Stevenson
Brandon Skaiak
Omar Saigado
Denver Health
2012
Frank Gibson
Rideout Memorial Hospital
2011
Baron P. Alfred, Jimmy Montojo and
Jeffrey A. Helgeson
Memorial Hermann Health System, Houston, TX
2010
John Kornock
Parker Adventist Hospital, Parker, CO
2007
Anthony Potter, CHPA-CPP
Forsyth Medical Center, Winston-Salem, NC
2007
Michael Cummings
Aurora Healthcare, Milwaukee, WI
2007
Joseph Gullinello
Staten Island, NY
2007
Evelyn Meserve, CHPA
Gaston Memorial Hospital, Gastonia, NC